Setting up and Sharing Appointments
1. Open Google Calendar while logged into your school account.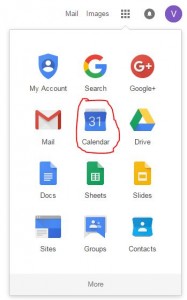 2. Make sure that you're in "Week view" or any "Day" view

3. Click anywhere in the calendar. In the event box that pops up, click "Appointment slots"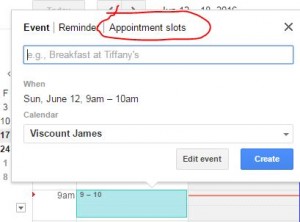 4. Enter the details, including a title, and pick the calendar where you want the event to show up. If you would like to provide additional information, such as location, click "Edit details"
Invite Others to Book Appointments
After you've set up appointment slots, you can invite people to book time.
To invite people to book appointments, don't invite them to the appointment slot. Instead, get a link to send them for your appointment slots page.
1.  Open Google Calendar
2. Click on your event to open the appointment slots page.
3. Copy and paste the calendar's appointment page link.

4. Send this link to the people who want to book an appointment.