Status Lights
Most printers at BCS have similar status lights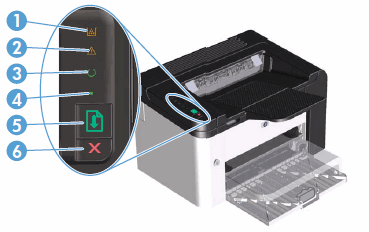 Toner Light
Off – Toner is ok
On – Toner is almost empty
Blinking – Toner is not installed properly
Attention Light
Off – Printer is ok
On – Paper Jam, Door Open, No paper in tray
Ready Light
Go Light
Go Button
Cancel Button
Networked Printers
We have a number of printers available on the network for those staff members that switch classrooms, offices, or use the conference rooms.
Installing a Network Printer
If you have privileges to install a network printer, here are two ways to install a printer in your location.
Installing in your building
In the address bar, type in \\wireless-print and then press Enter (Make sure you are using back slashes and NOT forward slashes, otherwise this will not work!!):
Double-click the printer you would like to install. If you have privileges to use that printer, the printer will install and it will then be available for you to print. That's it! Now you can begin printing to that printer wirelessly from your laptop.
Browsing for a printer
Select Add a network, wireless or Bluetooth printer.
You should now see a list of printers available to install in your location. Click on the printer you would like to install and click Next. If the printer you are looking for is not listed, select The printer that I want isn't listed.
Select Find a printer in the directory, based on location or feature and then click Next
Type the abbreviation of the building you are in for Name or the building name in Location
Select the printer from your search results and click OK to begin installing it.
Printer Specific Troubleshooting
HP CP1525nw (color printer)
Color Cartridge Alignment
If your printer is printing out a blurry or fuzzy image, the toner cartridges might be misaligned. This sometimes happens when toner is replaced or when cartridges are very low on toner. To fix the problem:
On the printer, go to Menu -> Reports -> Print Quality and press OK to print a quality report
Now go to Menu -> Reports -> Supplies Status and press OK to print a status page
These two reports should align the printer cartridges