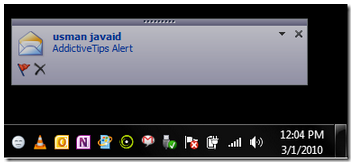 Want a pop-up notification every time you receive an email? Or do you want to hear a sound when a new message comes in? Follow these steps to make that happen.
To get started, launch Outlook 2010, head over to Home tab, click Manage Rules & Alerts from the Rules drop-down button.
You will reach Rules and Alerts dialog, click New Rule to apply rules on specific actions.
In Rules Wizard, we will start off with creating blank rule, click apply rule on messages I receive and hit Next.
In this step, we need to select an account, so enable through the specified account button.
Under Step 2 click specified account. Select your account and click OK
You will see that account name in the bottom pane. Click Next to proceed further.
Now scroll down the list of actions and enable display a Desktop Alert and play a sound (to select different sound for IMAP account).
Under Step 2 click a sound to select different audio file to be played with desktop notification.
Once selected click Finish to end the wizard.
It will bring you back to Rules and Alerts dialog show newly added rule. Click OK.
From now on when you will receive email through IMAP account, an alert notification will pop-up.